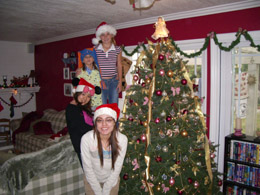 A homestay experience provides the international visitor the opportunity to live and be exposed to American culture on a daily basis, rather than viewing it as an ordinary tourist. Through this experience, American hosts find it possible to know their guest's national identity firsthand. Together they create an international community in America's home towns. The results are long term international friendships which aid in the important task of building understanding on a personal and global level.
OUR HOST FAMILIES
Our host families are our most valuable assets. Without them, our students would be unable to experience "Life American Style." Host families are open-minded, flexible, enjoy learning about other cultures, and appreciate the unique opportunity hosting offers their family. They are responsible for the student's room and board and contact with WISE® staff for ongoing support. The families look forward to opening their hearts and home to our international friends, providing a safe and nurturing cultural and language emersion programs as well as a cooperative administrative relationship with the WISE Foundation.
THE PROGRAM
Our educational program is usually 2 to 4 weeks for group homestays. This program is ideal for students as young as 13 years of age through the senior years. Individual homestays are open for one month to full year + durations. Each week during their stay the students attend four three-hour conversational English classes, and usually one full-day excursion, and two half-day activities.
Students arrive with spending money for gifts, entertainment, and eating out. They are fully insured under their own WISE®'s emergency health insurance policy. The students are generally very considerate and appreciative of their opportunity and participate as much as possible in host family activities.
HOMESTAY LOCATIONS
WISE® is a rapidly growing organization offering participants a choice of homestay locations. These include Los Angeles, San Francisco, Fresno, California; Seattle, Tacoma and Bellingham, Washington, Portland, Oregon; Boston, Massachusetts; Maine; New Hampshire; Mississippi; Arizona; Memphis and Nashville, Tennessee; and Orlando, Florida.
For more information, contact WISE®.